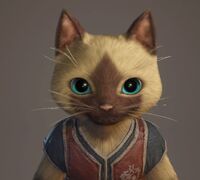 Palicoes are a type of Felyne in Monster Hunter: World. They are combat-oriented.
Summary
Palicoes are Felynes that have created a pact with hunters to support them in battle. Palicoes will accompany you when playing with two or fewer hunters, assisting you by healing, attacking monsters, or even gathering materials.
Palicoes are entirely customizable. You can choose the colors on their body, their eyes, and other clothing elements. You can also choose cosmetic elements like the fold of their ears, tail colors, and other elements.
Palicoes can support you in a wide range of activities from riding into battle, cooking food, and more.
Gallery